Global Real Estate Tech/PropTech Investment Report for H1 2018
The Real Estate Tech (Proptech) startups have been attracting a lot of attention these days, with many PropTech focussed funds hitting the markets recently across the globe. Real Estate has historically attracted very high investments but has been a laggard in term of technology adoption. The industry, valued at over US$200 trillion in assets, presents a massive opportunity for the new age technology companies, mainly due to the high need to fill the technology gap to drive efficiency and effectiveness. ?With the changes in the regulations, market dynamics, and consumer preferences, the shareholders are demanding more transparent and efficient organizations, and the Real Estate Tech (Prop Tech) startups are taking up the opportunity to disrupt the age-old setups?, says Sourav Paul, Director Research, YoStartups.
For our study, we have classified the Real Estate Tech / Proptech Startups into the following six segments;
Architecture, Design & Construction
Investments & Lending
Real Estate Marketplace
Shared Economy
Smart City & IOT
Sustainability
Investment trend in Real Estate Tech (PropTech) Startups

Investments in Real Estate Technology has seen a steady rise since 2005. The total investments in Real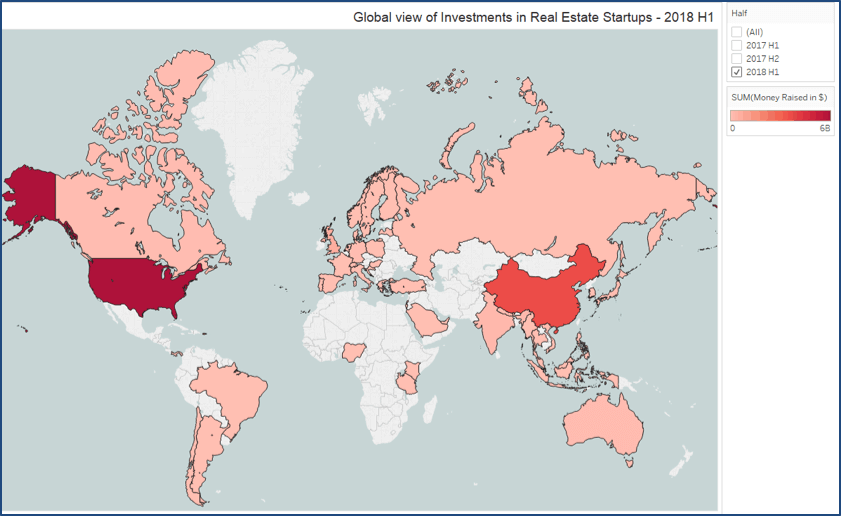 Estate startups have increased almost 40 times in the last 13 years. Although 2016 and 2017 saw similar levels in investments, 2018 seems to be a promising year with investments till mid of the year crossing over 75% of the total investments in 2017.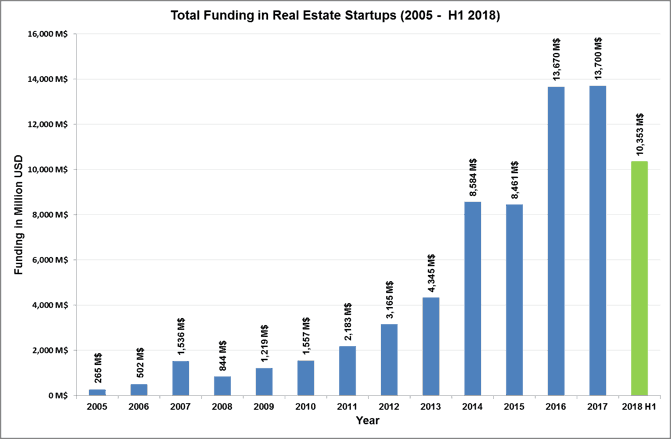 Although the total amount of investments in Real Estate Tech (PropTech) Startups in H1 2018? is twice the amount of the investments during the same period in 2017. The total number of deals in H1 of 2018 is around 10% less than that in H1 of 2017. The number of deals, in general, has seen a 50% decrease in the recent years especially since 2016, which indicates that investors are more focused on value-based investing rather than going with the mass approach.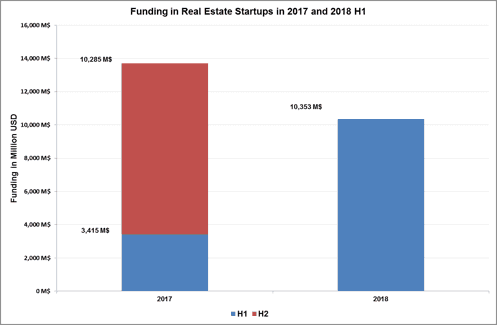 The way we buy, sell, rent, develop and monetize real estate is changing, and the speed is unnerving to many players. The change could usurp old players by surprise. New age technology is playing a part in creating the next generation of real estate, and we see a massive injection of capital through newly launched ?Proptech Funds? globally in Real estate Tech (Proptech) startups. Now is this time to jump on the bandwagon. PropTech is one of the last sectors to be touched by technology, many startups will fail, and many will create immense wealth for its early investors and stakeholders. The key is to look at solving a real pain and working through an alliance to create value.
Startups such as Beijing Easyhome Furnishing, Reonomy, Ziroom, WeWork, Relayr, Carbon Lighthouse, 3vjia.com have been the highlights in their segments, namely Architecture, Design & Construction, Big Data & Analytics, Real Estate Marketplace, Shared Economy, Smart City & IOT, Sustainability, and Virtual Reality/ Augmented Reality segments respectively, for the period H1 2018.
Stage-wise distribution of investments in Real Estate Tech (PropTech) Startups in H1 2018
Between H1 2017 and H1 2018, Seed round funding has reduced by 20%, while Series A and Series B funding has cumulatively doubled. This signifies that fact that the market is more open to investing in companies that have found a product-market fit.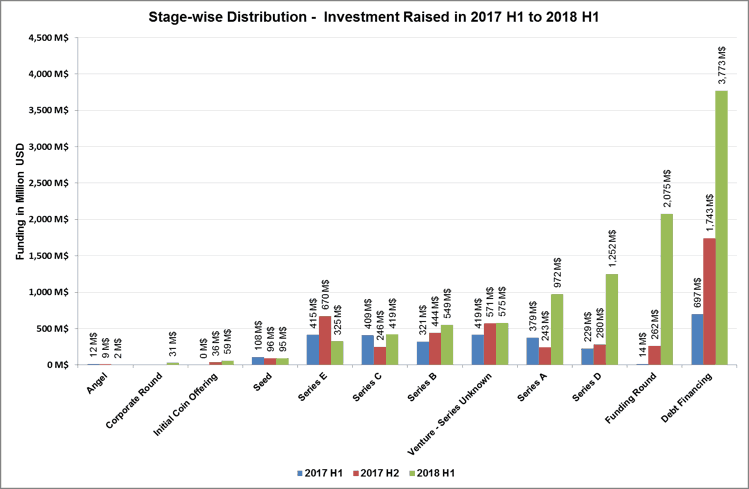 Real Estate Marketplace and Shared Economy segment raised the highest Series A and Series B funding of $809 million and $306 million respectively. ?This is almost a 30% increase since 2017. Debt financing continues to remain one of the main types of funding in the Real Estate industry and this has seen a 50% increase since 2017, with $3.7 billion being raised in H1 2018.
Segment-wise distribution of investments in?Real Estate Tech (PropTech) Startups in H1 2018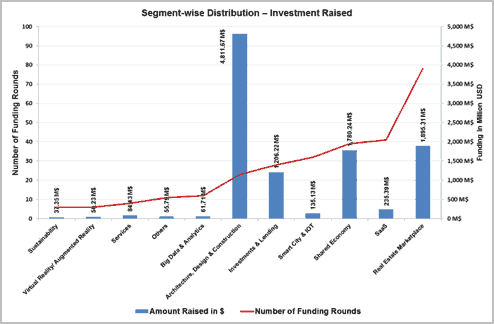 The Real Estate industry has typically been driven by brokerage market and the online marketplaces have disrupted this aspect of the industry. As a result, the buying and selling of real estate products and services have become economical, easy and transparent. The Real Estate Marketplace is the first and largest point of technology infusion into the industry with 78 deals leading to a total investment amount of $1.8 billion.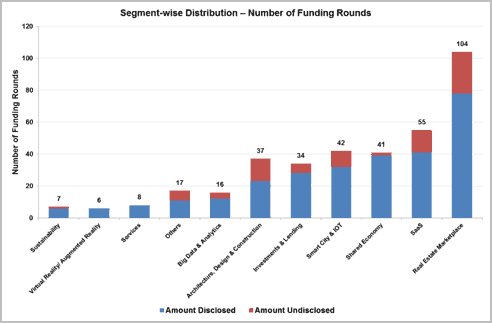 The first half of 2017 saw similar levels of investments, around $500-600 million each, in the Real Estate Marketplace, Shared Economy, Investment & Lending, Smart City, and Construction. 2018 has seen more money being invested not only in Investments & Lending, Real Estate Marketplace, and Shared Economy but also in technology in the Architecture, Design, and Construction segment, which forms the main product forming a core of the industry.
Country-wise distribution of investments in Real Estate Tech (PropTech) Startups in H1 2018
The United States leads the startup investments in the Real Estate industry, both in terms of number and money raised. The United Kingdom and China are far 2nd and 3rd in terms of the number of deals, but China beats the United Kingdom by a huge margin in the value of investments raised.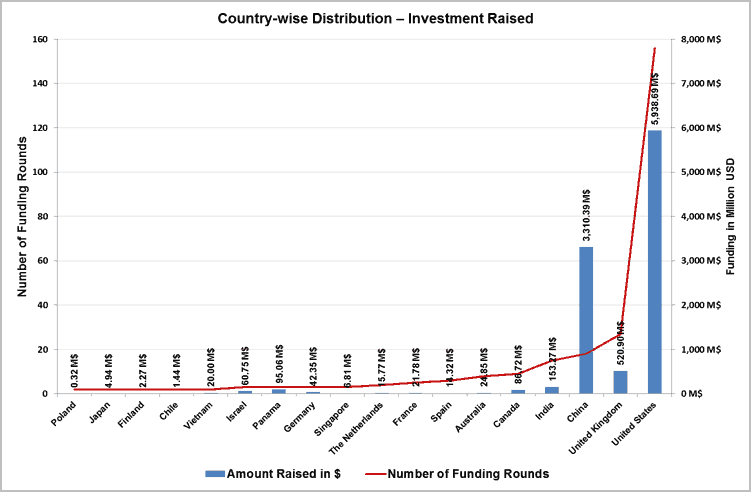 The Chinese markets focussed mainly on Architecture, Design, and Construction ($2.09B), Real Estate Marketplace ($800 million) and Shared Economy ($277 million). Beijing Easy Home, Zi Room, and Kr Space led with investments raised in these segments respectively.
China leads significantly in the average investment of $184 million raised per round. The US is a distant second with only $38 million per round. Startups such as Katerra, WeWork, and Opendoor led in terms of the investments raised.
The future of Real Estate Tech (PropTech) Startups

Some of the key technologies that are looking promising to get fully inclusive with the Real Estate industry are AR/VR, Robotics/Iot, Fintech, Big Data & AI, and Blockchain. ?Several questions have been raised about the real world utility of the Blockchain technology and its ability to transform different industries. But in the Real Estate industry, we believe there is a huge potential to bring efficiency, uniformity, and transparency with the use of the blockchain technology.?, says Jappreet Sethi, CEO YoStartups
The Real Estate Marketplace has already been disrupted by the internet. Virtual and Augmented Reality will disrupt this segment further in the way consumers are able to view the offering and designs. The fact that this segment was able to attract investment in the US and China only in 2018, makes it a lucrative opportunity for startups in the other parts of the world. Shared Economy is the taste of the generation. With most part of the globe having startups in these segment, it is time of South America, Africa, and the Middle East to catch up. Smart City is the future of living.? PropTech Startups have already raised investment in this segment around the globe and this segment will see more investments in the coming future. Here are the Top 50 Real Estate Tech(PropTech) startups of 2018 that should be on your radar.
Copyright All Rights Reserved ? Yostartups | Please do not copy without written permission | www.yostartups.com
__________________________________________________________________________________
This 1001 startup ideas article is from Yostartups, YoStartups is a Pre Accelerator, and it empowers entrepreneurs to propel their business ideas into successful ventures. Yostartups? core mission is to take the message of entrepreneurship to 1 billion people globally by 2020.
In case you are looking at scaling or launching a venture on similar lines, you can apply for our virtual acceleration program Excelrate on our website, Yostartups.com, Yostartups? Excelrate program will help you in streamlining and structuring your startup idea. We have limited scholarships and discount packs for deserving business ideas, depending on the strength of your startup ideas, you may qualify for a discount.
—————————————————–
*Any views, opinions and guidance set out in this website are provided for information purposes only, and do not purport to be legal and/or professional advice or a definitive interpretation of any law, marketability or fitness for a particular business idea for any market or industry segment. Anyone contemplating action in respect of matters set out in this website should obtain advice from a suitably qualified professional adviser based on their unique requirements. Yostartups, its partners, associates, authors and contributors, make no representations or warranties of any kind, express or implied, about the completeness, accuracy, reliability, suitability or availability with respect to the website or the information, products, services, or related graphics contained on the website for any purpose. Any reliance you place on such information is strictly at your own risk.